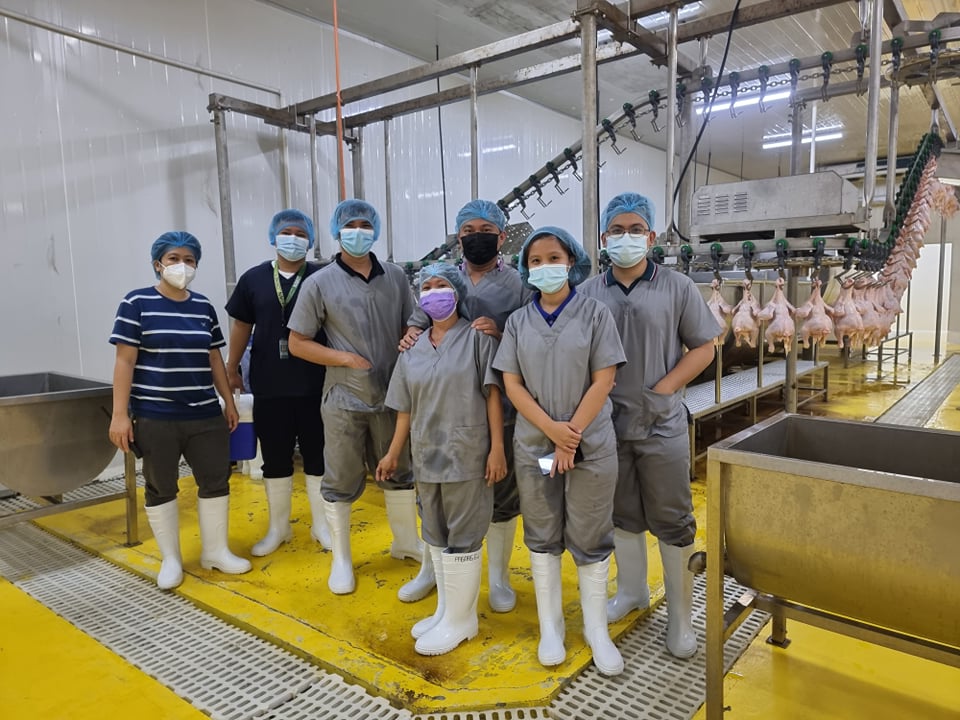 I have undergone the Basic Meat Inspection Course from July 5 to 29, 2021 together with eleven other trainees. The course includes online lectures and a practicum at the National Meat Inspection Service (NMIS) Regional Technical Operations Center (RTOC) III. BMIC gave me a glimpse of what would be the functions of a Meat Inspector (MI).
BMIC Lecture part
On my first nine days in training, I attended the BMIC online course. It was done online due to the limitations brought about by the pandemic. During the online BMIC, we had lectures with various knowledgeable and expert resource speakers from NMIS namely, Dr. Orlando Ongsotto, Dr. Rona Regina Reyes, Dr. Mae Nimfa Cruz, Dr. Sittie Maleah Fatima Macog, Dr. Marjanette Padasas, Dr. Rudio Abulencia, Dr. Roberto Umali, Dr. April Chavez, Dr. Jasmin Ala, Dr. Roseller Manalo, Ms. Remedios Micu, Ms. Neilda Aquino, and Mr. Ariel Lupenario. They discussed topics such as different meat establishments, anatomy and pregnancy diagnosis of food animals, microbiology and meat science, humane handling of animals, hygiene and sanitation, environmental management, hygiene and food defense, enforcement, and meat inspection and laboratory.
Further, Atty. Beata Humilda Obsioma, Deputy Executive Director of NMIS for Administration and Finance, also presented and discussed the different laws and other issuances on meat inspection that are relevant to our future tasks.
Practicum at RTOC III
For our practicum, I was deployed at RTOC III together with four other MIs namely, Engr. Jonazyl Jumantoc, Mr. Leo Badilla, Ms. Gem Pagnas, and Mr. Ed Gerome Borja. We were able to experience what it's like to be an actual MI for seven days.
During the first day of our practicum, RTOC III Director, Dr. Domingo Gonzaga, and Meat Inspector III, Ms. Sally Entac, oriented the five of us on the different functions of the regional office and our roles as trainees.
I learned that the primary function of our agency is to ensure the safety of meat and meat products in the Philippines. The fulfillment of providing excellent meat inspection service should never be compromised. It should be responsive to consumers' welfare, and it should be globally competitive.
I had a great time sharing my work experiences with Ms. Entac during the initial interview on my first day as an on-the-job trainee. She was a very accommodating and respectful focal of the Meat Standards and Development Consumer Protection Division (MSDCPD) in RTOC III.
My stay in RTOC III was full of excitement, learning, and enthusiasm to learn more about my profession. I am privileged to have visited various meat establishments such as hogs and big animals' slaughterhouses in the Municipalities of Concepcion, Tarlac; Marilao, Bulacan; and Mabalacat, Pampanga. The visits to the cold storage and meat cutting plant in Guiguinto, Bulacan and a poultry dressing plant in Bamban, Tarlac were first-time experiences on my part.
During these exposures, the team was able to practice what we have learned during the online BMIC. We were able to practice the antemortem inspection, and post-mortem inspection. We identified the different parts of the internal organs. We also performed basic post-mortem examination with the supervision of Dr. Gonzaga and Ms. Entac. These exposures let us experience what would be the necessary preparations and procedures prior to the slaughter of food animals. We also got to experience the after slaughter process that includes proper handling and transport of carcass/meat.
The team was also exposed to enforcement activities in public markets of Municipalities of San Fernando and Apalit in the Province of Pampanga. During these activities, we were able to inspect meat stalls. We observed if they are selling fresh meat that are safe and wholesome for human consumption and if they have complete and necessary documents to sell meat. We looked for certificates called meat inspection certificate (MIC) for locally sourced meat and certificate of meat inspection (COMI) for imported meat.
Learning
Being at the frontline service is very challenging. Clients and other stakeholders with differing attitudes and behaviors are inevitable. For me, I was able to cope with these during the practicum. I always think every time I report for my duty that I should always wear a smile when talking to people and to always be courteous to clients, as well as to fellow staff at any time and in any circumstance.
This training enriched my capability and confidence and created a foundation for me to become a more productive and better employee of this agency. I considered that my 16-day training is truly a meaningful and worthy experience. I learned a lot each day from day one to my last day as a trainee.
Written by: Marvin E. Doles, August 2, 2021