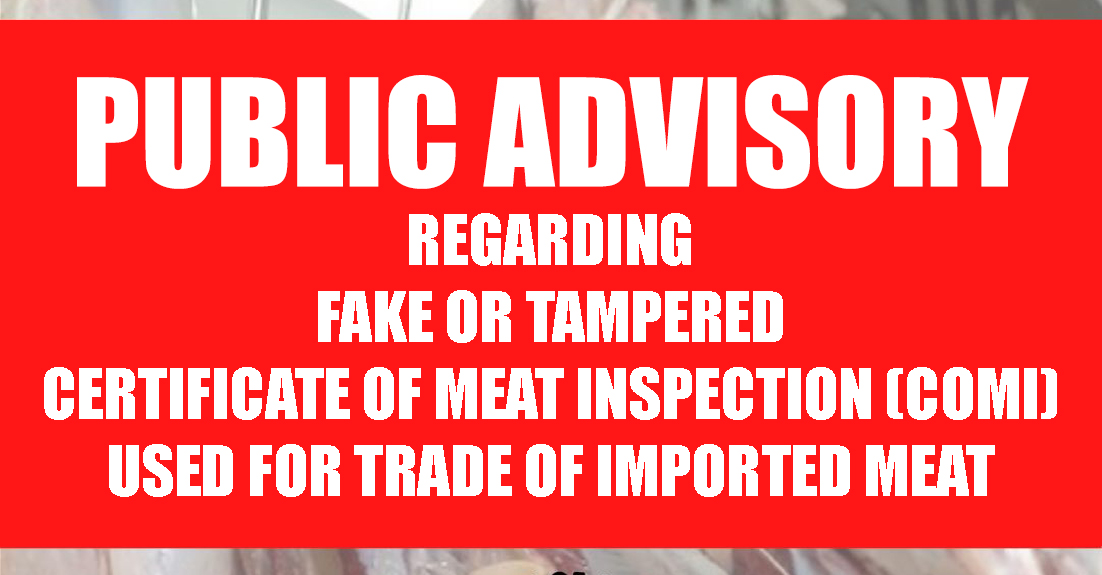 NMIS have received reports of traders and online sellers which are using fake or tampered Certificate of Meat Inspection (COMI) for the sale or trade of imported meat. The NMIS warns the public not to buy imported meat that are accompanied with a COMI that bears an electronic signature.
The NMIS also warns that forging of official marks and certificates is punishable under the Republic Act (RA) No. 9296, as amended by RA No. 10536, also known as the "Meat Inspection Code of the Philippines" and its Implementing Rules and Regulations.
To ensure safe meat for all, please report to NMIS any trade transaction of imported meat that are accompanied with a COMI using an electronic signature or appearing to be questionable. You may report them to the following contact details:
According to Ms. Remedios F. Micu, NMIS's Health and Safety Officer (HSO), the vaccination effort was made possible by the NMIS OIC-Executive Director, Dr. Jocelyn A. Salvador. "She instructed the Human Resource Management (HRM) division of the NMIS to coordinate with the Quezon City Hall to accommodate NMIS employees' COVID-19 vaccination," Ms. Micu said. The HRM division then sent a request letter to the Quezon City Hall. The letter was approved on July 22, 2021 that resulted in the quick facilitation of the vaccination of NMIS employees the following day.
Office of the Executive Director: This email address is being protected from spambots. You need JavaScript enabled to view it.
Meat Import Export Division: This email address is being protected from spambots. You need JavaScript enabled to view it.
NMIS - Safe Meat for All
#safemeatforall
#NOtoFakeCOMI
#NOtoTamperedCOMI