240 MIOs attend Meat Inspection Officers Congress 2023
Gathering over 240 Meat Inspection Officers (MIO) all throughout the country, the National Meat Inspection Service (NMIS) held its Meat Inspection Officer Congress 2023 on May 22-26, 2023, at Hotel Elizabeth, Baguio City.
As the host region, Regional Technical Director (RTD) Dr. Domingo D. Gonzaga of the Regional Technical Operation Center (RTOC) Cordillera Administrative Region (CAR) welcomed the participants. He recognized the event as an opportunity to foster camaraderie and a strong and united nationwide community at NMIS.
"You are the guardians of progress entrusted with the responsibility of upholding the highest standard of inspection and enforcement," says keynote speaker and Baguio City Mayor Hon. Benjamin Banez Magalong through his representative Ms. Samantha Hamada. "Each inspection you conduct and each regulation you enforce contributes to building a stronger and more resilient society. Your dedication, expertise, and unwavering commitment to upholding the rule of law are essential for the progress of the country."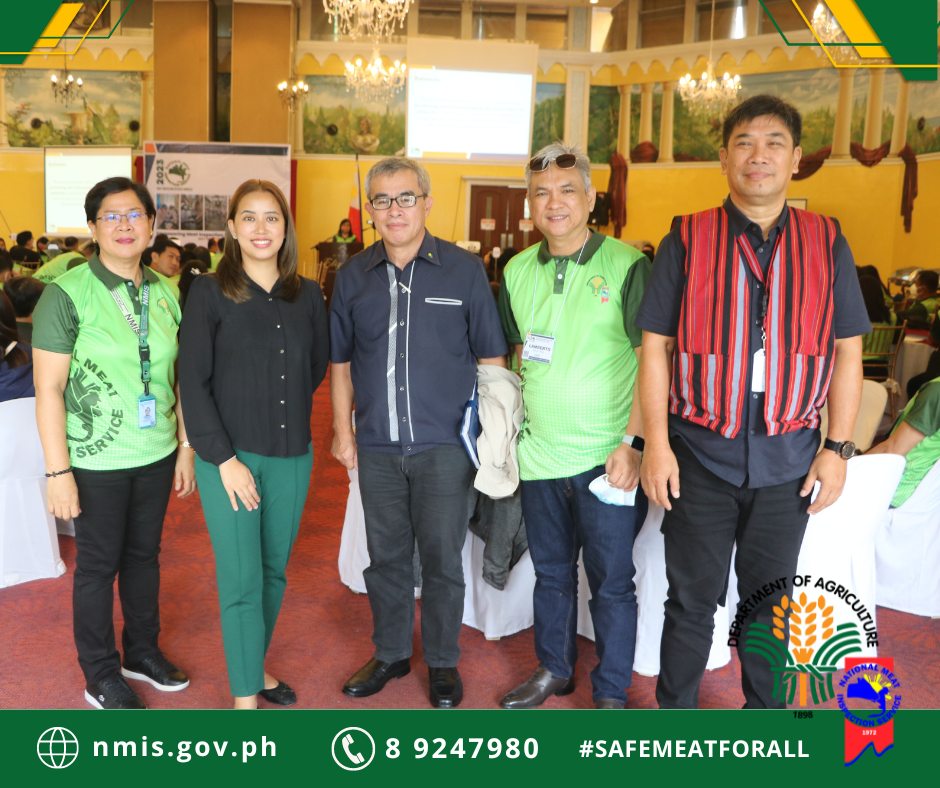 MSQA Auditors Undergo Recalibration Training
Aiming to enhance the competency and integrity of auditors and to establish sufficient pool of auditors to meet growing demands, the National Meat Inspection Service (NMIS) conducts the 23rd Meat Safety Quality Assurance (MSQA) Auditors General Meeting and Technical Session on March 28-30, 2023 at Hotel Kimberly, Tagaytay City. Executive Director Dr. Clarita M. Sangcal welcomed the participants and expressed her enthusiasm to see all the auditors gathered to upgrade their skills and share their best practices in auditing meat establishments for the issuance of NMIS License to Operate (LTO) for slaughterhouses, poultry dressing plants, meat cutting plants, cold storage warehouses and meat distribution centers.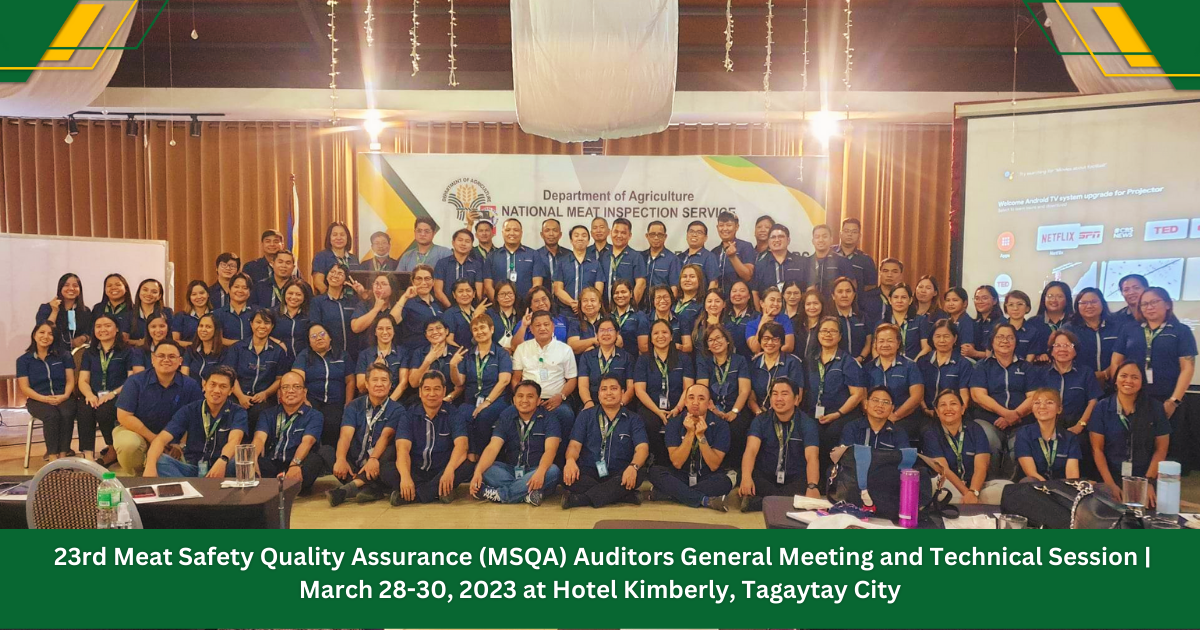 NMIS CO visits RTOC V, CBSUA-CVM
Look II Executive Director Dr. Clarita M. Sangcal, and Planning, and Information Management Division (PIMD) Chief, Dr. Easter F. Oblena visited the Regional Technical Operation Center (RTOC) V (Nmis Bicol Region) and Central Bicol State University of Agriculture (CBSUA) last March 2, 2023. Personnel of RTOC V had a short meeting with Dr. Sangcal to discuss the issues and concerns in the region. With the recent appointment of Dr. Domingo Bartolome D. Gonzaga as Director II, Dr. Sangcal assured them of the management's support to his leadership and that the Central Office would maintain its lines open in working hand in hand with the region. On the same day, Professor Ilene B. Mirabeles, DVM, PhD of CBSUA- College of Veterinary Medicine welcomed Dr. Sangcal, Dr. Oblena, Dr. Gonzaga, Dr. Mateo Puatu and Dr. Alex Templonuevo during their visit at the campus' Veterinary Teaching Hospital. NMIS officials encouraged the veterinary students to take part in promoting meat safety and to consider NMIS as one of their career pathway in the future. ###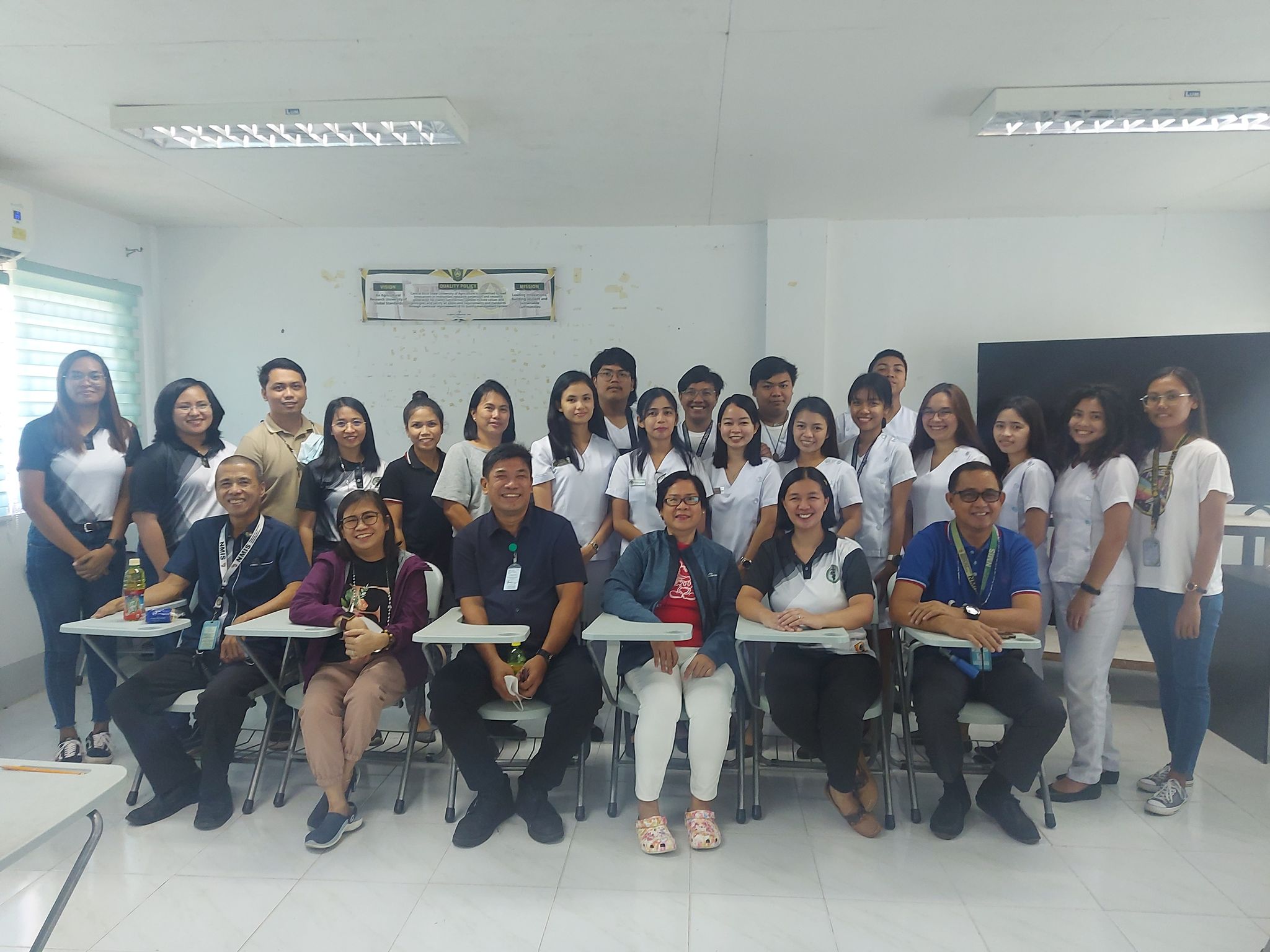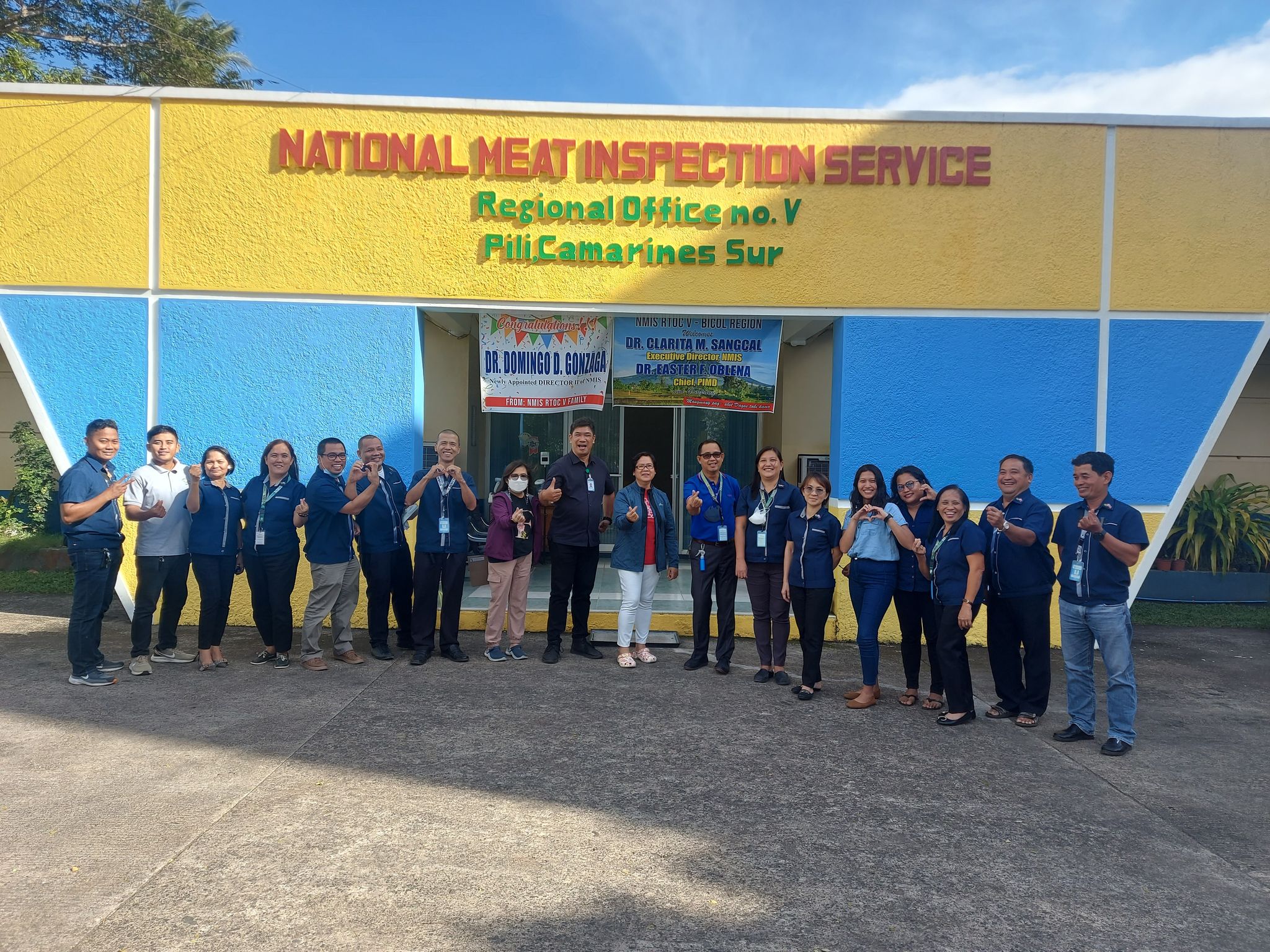 Ms. Katherine Lyka Panizales, RCh concluded her 6-day retooling training workshop
Look: Ms. Katherine Lyka Panizales, RCh., from RTOC 12 Satellite Laboratory, has just concluded her 6-day retooling training workshop for Liquid Chromatography with Tandem Mass Spectrometer (LC-MS/MS) at the Central Meat Laboratory. Ms. Panizales will use the LC-MS/MS for the confirmatory testing of residues of veterinary drugs from suspected meat and offal samples. Congratulations Lyka! The NMIS Family wishes you success on your method development and validation goals! (D. Dimaya)